8 Ways to Empower Volunteers for Your Next Fundraising Event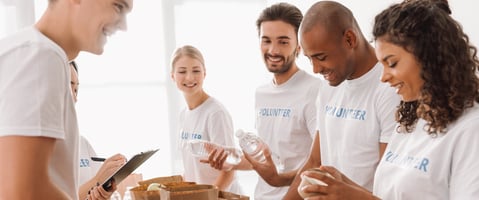 Your nonprofit's volunteers help power your ability to create change and make an impact. When it comes to fundraising events, volunteers are key to prep, planning, and execution. While these passionate advocates are interested in helping your organization, it's up to you to find ways to best equip them for success and maximize the time that they're generously donating.
Here are eight tips to effectively empower your fundraising event's volunteers.
1. Use fundraising event management tools.
Event management tools give your organization the best chance to stay organized and hold a professional, flawless fundraising event that meets (or surpasses!) your fundraising goals. Start with a volunteer management software solution that simplifies virtually everything nonprofits do related to volunteers—recruiting, visualizing availability, coordinating schedules, and tracking volunteer hours.
Next, choose a fundraising event management platform that's built for the specific type of event you're holding and that allows you to:
Collect volunteer information alongside event registrations and sponsorships
Keep volunteers in the know the day of the event with a mobile app with push notifications
Easily export your volunteer information (along with attendee and sponsor information) for seamless inclusion in your organization's CRM
2. Train your volunteers effectively.
No one likes the feeling of being unprepared or unqualified to do a job. The same goes for your fundraising event's volunteers. No matter what type of event you're throwing, it likely requires volunteers with a variety of skill sets to make planning and execution go smoothly, so make sure each individual volunteer is comfortable with what they're being asked to do. The key is to outline specific expectations and responsibilities, and allow volunteers to ask questions.
One way to accomplish this is to organize short training sessions to ensure everyone understands what's expected of them in each volunteer role. These could be in-person sessions or even recorded or live webinars. It's also a good idea to create a job description for each volunteer position that outlines all of the responsibilities so people know exactly what they're signing up for. Once you have these descriptions in place, it makes managing volunteers easier in subsequent years.
3. Highlight your volunteers' connections and strengths.
Your volunteers likely have connections within and beyond your community that can benefit your fundraising event in some way. Perhaps someone has a relationship with the owner of a catering company that they're willing to contact to provide discounted food and beverage for your event. Or their employer is a potential corporate sponsor or has volunteer grants available (see item 8 below for more information!). Or maybe they even have an in to get a celebrity or influencer to attend your event. In this case, GolfStatus recommends having the volunteer be part of the team that works with the celebrity and their team to maximize the benefits and positive PR of their participation.
Ensure volunteers don't feel like you're exploiting their network and connections for your benefit. One way to prevent this is to invite volunteers to participate in a brainstorming session about sponsors and special guests where their connections might naturally come up.
What's more, your volunteers likely have specific skills they're happy to put to use. Someone skilled in graphic design could create the event logo and any marketing collateral. A volunteer who loves chatting and interacting with people could greet attendees at the door. Or someone who loves logistics could set up signage, AV equipment, or registration tables. The point is to let volunteers leverage their abilities to make your event a success.
4. Respect volunteer schedules.
Since volunteers are generously donating their time to your fundraising event, be respectful of their time and don't overburden them. Start by using an online tool that allows volunteers to choose a specific date, time, and task that works in their schedule. Google Forms or SignUp Genius are good options to explore. You'll also want to create a volunteer schedule that clearly outlines each volunteer's commitments. It's a good idea to have this determined well in advance of the event so volunteers can block the time on their calendars.
5. Communicate, communicate, communicate.
Volunteers need to be kept in the loop about what's happening with the fundraising event they'll be assisting with and is a huge component of effective volunteer training. Regular communication helps them feel valued and alleviates any uneasiness about what's expected of them on event day. Whether you use your event management software's built-in communication tools, send individual emails or text messages, employ an email service, or any other method, make sure volunteers are well-informed about the day's schedule and logistics, such as where they should park or enter the event venue, or anything else that's relevant to their roles leading up to and on event day.
6. Share volunteer stories.
Your volunteers' stories are powerful! In fact, they probably have some sort of personal experience or connection to your cause that prompted them to volunteer for your nonprofit in the first place. Allow your volunteers to share these stories, perhaps as part of the event itself or in promotional materials. For instance, you could invite a volunteer to speak at the event and share their story about volunteering for your nonprofit. This might prompt others to volunteer or spark donations to further your mission. Or, if your nonprofit is organizing a charity golf tournament and has a volunteer that's passionate about the sport and your cause, you might include an impactful quote from them in your tournament's marketing materials. You could also leverage your social media presence to share messages from your volunteers that invite people to attend the fundraising event or make a donation to support it.
7. Invite volunteers to join the planning team.
No matter what type of fundraising event you're hosting—golf tournament, silent auction, run/walk, gala, etc.—you need a team to help make it a reality. Whether the event is spearheaded by staff or board members, invite some of your most passionate and experienced volunteers to participate on the planning committee. They can contribute unique insights, ideas, and feedback for recruiting and utilizing volunteers for the event, ensuring that your volunteers have a great experience and feel valued.
8. Encourage them to explore volunteer grants.
According to Crowd101, Americans have volunteered a staggering 120 billion hours since 2008, worth an estimated $2.8 trillion. Your nonprofit can capture a bigger piece of this pie by encouraging your fundraising event volunteers to explore volunteer grant opportunities at their places of work. Volunteer grants are part of many companies' corporate philanthropy programs and incentivize volunteerism by making a monetary donation to the nonprofits where employees volunteer. These programs vary in their requirements, but are an excellent (and easy!) way to boost fundraising.

Conclusion
Your volunteers have so much to offer, but it's up to you to empower them, leverage their abilities, and make them feel valued and appreciated. Ultimately this will strengthen your volunteer base, which also strengthens your nonprofit. After your fundraising event, be sure to thank your volunteers so they come away having a positive experience with your nonprofit. You might also ask for their feedback about the event and how it could be improved from the volunteer's perspective. Take their feedback into account as you start planning your next fundraising event and find new ways to empower your volunteers' abilities to achieve your mission.


---
About the Author: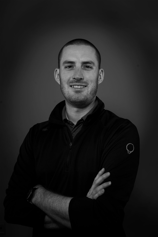 Logan Foote, Sales and Education Director at GolfStatus

Logan Foote has been around the game of nearly his entire life. He first picked up a club at the age four, and despite thousands of attempts, he's never had a hole-in-one. He earned a bachelor's degree in business administration at the University of Nebraska-Lincoln and pursued a career in sales. Logan came to GolfStatus in 2017, where he channels his passion for golf to help nonprofits raise money through the game. As Sales and Education Director, Logan oversees a team that works with thousands of nonprofit clients to maximize their golf fundraisers with the GolfStatus platform, and shares his golf fundraising expertise through GolfStatus free educational webinars. He lives and golfs in Lincoln, Nebraska, with his wife and three sons.