5 Volunteer Recognition Strategies to Boost Engagement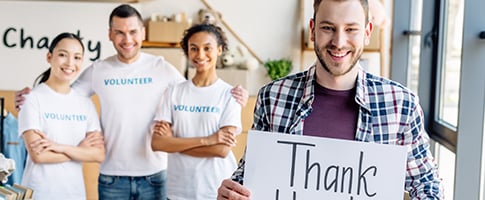 Your volunteers play a pivotal role in your nonprofit's operations. From setting up fundraising events to running programs in the community, these individuals know the ins and outs of your organization and are passionate about seeing your vision become a reality. They offer your organization immense value—in fact, one study found that an average volunteer hour was worth $28.54!
It's not enough to simply say thank you when you see your volunteers in passing around your facilities. To show your volunteers how much you value their time and support, you need a strong volunteer recognition strategy. Volunteer recognition is a great way to ensure supporters come back to help your organization year after year, helping you build a thriving volunteer base so your essential programs, activities, and community services can continue.
To retain great volunteers, consider implementing the following volunteer recognition practices:
Write a thank-you note.

Host volunteer appreciation events.

Send small gifts.

Shout-out volunteers' efforts on social media.

Start a "Volunteer of the Month" program.
Volunteer recognition is an important part of nonprofit human resources management. By showing volunteers how much you appreciate them, you'll be able to increase overall satisfaction with their roles, making it more likely that they'll want to volunteer their time again and again. Let's begin.
1. Write a thank-you note.
Your volunteers give so much and expect nothing in return, so writing a thank-you note can go a long way in demonstrating how much their selflessness and generosity mean to your organization. If your nonprofit has the bandwidth and the staff available, consider writing handwritten thank-you notes for an added personal touch.
Fundraising Letters' guide to volunteer thank-you letters outlines the following best practices for your notes of appreciation:
Use a personalized salutation.

Start your letter with a greeting and address it to your volunteer by name, rather than using a generic "Dear Volunteer." Reference your volunteer database to ensure you're using the volunteer's preferred name.
Reference their specific impact.

Be specific about what your volunteer did and how this helps move your mission forward. For example, you could write "Thank you for walking all of the shelter dogs on Saturday morning. Because of your help, our dogs received the stimulation they needed and were calm during the afternoon, allowing three adopters to easily pick out their new forever companions."
Include a personal statement of gratitude.

Express how much you appreciate the volunteer's efforts and time. If possible, the note should be written and signed by someone who knows the volunteer personally to make it feel even more genuine.

Invite them to your next event.

While the main purpose of your letter is to thank your volunteers, you can also take this opportunity to inform them about upcoming events or programs that will need volunteer support.
Send your thank-you letters out as soon as possible after your volunteer event. This lets volunteers know that your organization truly cares about them and appreciates all of their help.
2. Host volunteer appreciation events.
For volunteers that go above and beyond, you need a special way to recognize them. Volunteer appreciation events are exclusive events that help your team members feel extra special and give volunteers the opportunity to mingle with their peers in your organization, strengthening your sense of community.
These can be great for volunteers that have worked on extensive projects, like capital campaigns, and have made incredible contributions to your nonprofit's mission.
Don't be afraid to think outside the box and come up with a creative idea that all of your volunteers will love! Consider these volunteer appreciation event ideas to give you some inspiration:
Volunteer party.

Organize a fun gathering with music, snacks, and more (depending on your organization's budget). You can even host a raffle during the event with small prizes like gift cards or your organization's branded merchandise.
Dinner.

Take your top volunteers out to dinner at a local restaurant that everyone will love, or bring in delicious takeout.
Awards ceremony.

Host a ceremony that honors volunteers for their hard work and specific contributions they made to help your nonprofit achieve its goals. For example, you could make awards for the volunteers that put in the most hours or raised the most money.
You don't have to break the bank to create a successful volunteer appreciation event. Consider hosting this event at your nonprofit's facility or working it into an event your organization is already hosting, such as before or after a fundraising event.
3. Send small gifts.
Volunteer appreciation gifts can make these invaluable team members feel extra special and eager to continue supporting your organization year after year. The best volunteer appreciation gifts will align with your volunteers' interests, demonstrating to your volunteers that your organization really cares about them.
For example, if you're an environmental organization and have a volunteer that is especially passionate about keeping waste out of the oceans, you might gift them with metal straws branded to your nonprofit.
Here are a few other ideas that can inspire volunteers and show your thanks:
Gift cards.

Your volunteers likely have a favorite bookshop or local restaurant, so ask them what they would prefer.
Swag bags.

Create gift bags filled with your nonprofit's merchandise, like stickers, tees, and water bottles. On top of being a fun gift, this swag will empower them to further market your mission!

Collection of handwritten notes from community members.

This cost-friendly gift idea pulls at the heartstrings and lets volunteers know how much their efforts make a difference.
If you're still not sure what to get your volunteers, consider sending out a survey asking them about their interests and the type of gifts that would really motivate them.
4. Shout-out volunteers' efforts on social media.
Spotlight your top volunteers across your social media accounts with engaging content. Not only does this help your existing volunteers feel truly valued, but it can be a great way to promote your volunteer program to prospective volunteers and reinforce why volunteering is so essential.
Consider creating exciting graphic designs that will stand out on your audience's social media feeds. For example, you could ask your volunteers to provide a quote about why they volunteer at your organization, and couple this with a photograph of your volunteer in action. Then, in the caption, highlight the specific ways your volunteer pushed your mission forward and the tangible impact of their efforts.
Make sure to get permission from your volunteers before sharing on social media. Some volunteers may prefer a more private form of volunteer appreciation, so it's a good practice to ask your volunteers beforehand what kind of recognition they would like.
5. Start a "Volunteer of the Month" program.
You've likely heard of the popular employee appreciation program, "Employee of the Month," which shouts-out employees that stand out in their roles. Your organization can easily take this idea and create a "Volunteer of the Month" program that all your volunteers will appreciate.
Each month, your organization can highlight a volunteer and the specific accolades they've accomplished that made a difference in your nonprofit. Then, you can share this in your volunteer newsletter or even on your website, depending on your volunteers' preferences.
To help all volunteers feel valued, honor someone different each month. You can even create a "Volunteer of the Week" program if you have a large volunteer program and want to highlight as many volunteers as you can within a year.
---
There are plenty of other ways you can recognize volunteers, from writing them a recommendation letter to calling them on the phone. When deciding on what volunteer recognition programs your nonprofit should choose, consider what would most excite your volunteers and help them feel valued for their time and efforts. After all, the best appreciation efforts are ones that are carefully thought through and personalized to the recipient.
To fine-tune your volunteer recognition approach, your nonprofit should work with a nonprofit human resources consultant. According to Astron Solutions, an HR consultant can reenergize your volunteer management strategies and help you boost retention, therefore increasing volunteer satisfaction and the amount of work your organization is able to accomplish. Do your research to find a consulting firm that has the expertise and know-how to optimize your volunteer program. Good luck!


About the Author:
Jennifer C. Loftus, MBA, SPHR, PHRca, GPHR, SHRM-SCP, CCP, CBP, GRP

Jennifer C. Loftus is a Founding Partner of and National Director for Astron Solutions, a compensation consulting firm. Jennifer has 23 years of experience garnered at organizations including the Hay Group, Parsons Brinckerhoff, Eagle Electric Manufacturing Company, and Harcourt General.
Jennifer has held volunteer leadership roles with SHRM, New York City SHRM, and WorldatWork. She serves as a subject matter expert to the SHRM Learning System and as a SHRM instructor. Jennifer is a sought-after speaker for local & national conferences and media outlets.
Jennifer has an MBA in Human Resource Management with highest honors from Pace University and a BS in Accounting summa cum laude from Rutgers University.
Jennifer holds Adjunct Professor roles with Pace University, Long Island University, and LIM College.
Jennifer received the 2014 Gotham Comedy Foundation's Lifetime Ambassador of Laughter Award.