How To Use Google Ad Grants To Unlock Giving Tuesday Success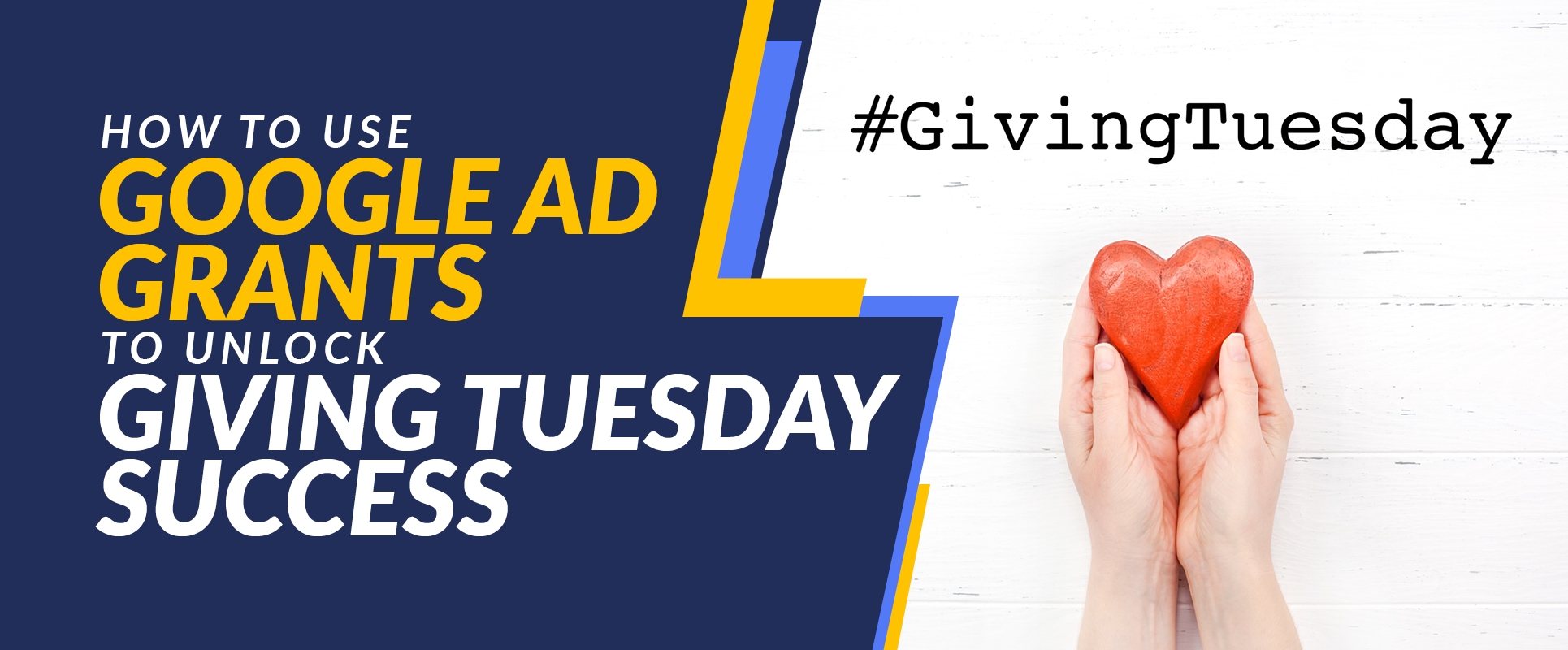 Giving Tuesday is one of the most impactful days of the year for nonprofits everywhere. This global generosity movement generated $3.1 billion in critical support in just 24 hours last year. The key to maximizing your nonprofit's Giving Tuesday results lies within your marketing. Luckily, technology is on your side!
As the world's most popular search engine, Google can put you in touch with supporters, helping you achieve your Giving Tuesday goals. Better yet, you can accomplish this for free with the Google Ad Grant.
If you've never heard of this program, the Google Ad Grant is a charitable giving program designed to help nonprofits market their digital content. All your nonprofit has to do is apply. If you qualify, you'll receive $10,000 a month to create ads that promote your website's content on Google Search for cause-related keywords.
Think of it as your ultimate marketing weapon for your mission, fundraisers, and programs. It's the perfect addition to your Giving Tuesday toolkit, and we're excited to share how you can use it to connect with donors and volunteers this year. Let's get started!
Applying For The Google Ad Grant
Before you can leverage the Google Ad Grant, you need to apply. The approval process can take several weeks, so it's best to get the ball rolling if you want to use it for your Giving Tuesday campaign this year.
Getting Attention's Google Grant application guide breaks down the process into a few easy steps, such as:
Check your eligibility status. You'll need to hold valid charitable status, which means U.S.-based nonprofits should be registered as 501(c)(3) organizations. Note that governmental organizations, healthcare organizations, and educational institutions are automatically ineligible. You'll also need to have a secure, high-quality website to be deemed eligible.
Register your nonprofit with TechSoup. Google works with TechSoup to verify organizations' legitimacy. Once TechSoup approves your nonprofit, you'll receive a validation token.
Create a Google for Nonprofits account. You'll need to agree to a few rules, share some information regarding your nonprofit, and input the validation token TechSoup provided.
Fill out the Google Ad Grants application. Once your Google for Nonprofits account is approved, you can finally apply for the Google Ad Grant! You'll fill out an eligibility form, where you'll share your website's URL and your nonprofit's goals for the program.
From here, wait to hear from Google. Once approved, start promoting your website's content within Google Search results! Note that each step takes some time. If you need help, turn to a consultant. Google allows agencies to apply on your behalf, making it easier for you to get up and running.
Vital Tips to Tailor Your Ads for Giving Tuesday
When it comes to crafting your Google Ad campaigns, you'll want to consider seasonality. In this case, that means designing ads that are tailored to Giving Tuesday. However, this goes for any of your Google Ad campaigns. It doesn't matter if you're celebrating Volunteer Month, Valentine's Day, year-end holidays, or anything else. Adjusting your ads to match the time of year can go a long way in driving results!
Let's take a look at some tips you can take to elevate your Google Ads for Giving Tuesday.
1. Target Giving Tuesday-Specific keywords.
One of the most vital parts of your ads is your Google Ads keywords. Keywords are the terms that users will search on Google to find content like yours.
You'll want to select keywords that are specific to Giving Tuesday, such as:
"Giving Tuesday donations"
"Support nonprofits on Giving Tuesday"
"Giving Tuesday [Your Organization's Name]"
Let's say you're planning a Giving Tuesday campaign for an animal rescue organization. You might get more specific with your keywords by tossing your mission in there. An example of this could be "Giving Tuesday animal donations."
To pinpoint your keywords, you'll need to use a keyword research tool like Google Keyword Planner. Consider what a potential donor might search to find your organization or cause on Giving Tuesday. Input those terms into the tool to find their search volume, competition, and keyword suggestions.
2. Create Giving Tuesday landing pages
Landing pages are where a user will "land" on your website after clicking your ad. When choosing a landing page for your Giving Tuesday campaign, you have a few options for maximizing results, such as:
A dedicated Giving Tuesday page. Direct traffic to a specific Giving Tuesday page to streamline the donation process and reduce drop-offs. This page should explain your nonprofit's goals and projects for Giving Tuesday, emphasizing the urgency of giving on that specific day.
A general donation page. While it might not be Giving Tuesday-specific, a well-designed donation page with clear calls to action (CTAs), trust signals (like security badges), and various donation options can work effectively.
A matching gift page. If you have a

CSR partner

offering matching gifts for Giving Tuesday, create a landing page that communicates this. Knowing this can motivate donors to give larger donations.
An event or campaign sign-up form. If your Giving Tuesday campaign involves a specific event, challenge, or initiative, use a landing page that allows supporters to sign up.
Not only do you want to choose the right type of landing page, but you'll also want to optimize it for conversions. Improving whichever landing page you choose will help you to maximize your Google Grant results. For example, ensure your page's content is relevant to your audience and includes a clear CTA.
3. Put thought into writing your ads
Your ad copy is what users will encounter in the search results and will entice them to click through to your website. Strive to craft compelling ad copy that aligns with the spirit of Giving Tuesday.
For one, create a sense of urgency in your ads. Giving Tuesday is a one-day event that thrives because of its deadline. Capitalize on this by using urgent phrases in your ads, like "Donate Today!" or "24 Hours to Make a Difference."
Giving Tuesday is also all about making an impact, so emphasize the user's potential impact by highlighting what a donation can achieve. For example, you might state that $50 feeds a family of four for a week.
4. Leverage ad extensions
Ad extensions, also called ad assets, can make your Google Ads even more valuable. Nonprofits Source explains, "By using them strategically, your ads can claim more real estate on search engine results pages and provide more opportunities for users to engage with your content."
Here's a quick rundown of some of the most popular ad extensions:
Sitelink assets: Append links to additional web pages that provide users with more opportunities to engage with your organization beyond your Giving Tuesday fundraiser. For example, you might encourage them to volunteer or explore one of your programs.
Callout extensions: Add short bullet point phrases that emphasize key information and highlight your nonprofit's unique characteristics, such as "Award-Winning" or "Serving Families Since 1997."
Call assets: Add a button that allows mobile users to instantly call your organization to learn more.
Location extensions: By showing your nonprofit's physical address, this extension can help local supporters find your office, an event location, or a physical facility.
There are plenty of others you can choose from, but these are great ones to consider when getting started. With ad extensions, you'll create enticing ads that enable you to cultivate relationships beyond Giving Tuesday.
Know that leveraging ad assets may require some extra help from an expert consultant since this is a more advanced strategy, though.
5. Schedule your ads
Timing is everything, especially when it comes to Giving Tuesday. While you might not want to run your Giving Tuesday ads right now, you can schedule your ads for later. In fact, ad scheduling can help you maximize your budget and reach the largest audience possible.
To get your timing right and boost results, here's what we recommend:
Ramp up the day before. Increase your ad exposure a few days before Giving Tuesday to build awareness.
Schedule your ads for peak hours. Schedule your ads to appear during times when your audience is most active online.
Thinking about factors like timing can help you make the most of Google Ad Grants. When it comes to Giving Tuesday, you have a limited window of opportunity to capture supporters' attention. If your ads aren't running at the right times, you'll miss out on potential contributions.
Cultivating Relationships Beyond Giving Tuesday
By getting creative with your Google Ads, you can supercharge your Giving Tuesday campaign. However, you'll do more than drive one-time donations if you do it right; you'll foster ongoing engagement.
No matter how people support your nonprofit this year, retain your Giving Tuesday supporters by thanking them for their generosity. It doesn't matter if they donated, registered to volunteer, or signed up for an event. Their support can make a world of difference in your cause. Show them you're paying attention, and you'll make this the best Giving Tuesday yet!
---

About the Author:
Jessica King, Business Lead at Getting Attention
Jessica helps nonprofits acquire and manage the Google Ad Grant to expand their impact. Prior to her work at Getting Attention, Jessica worked in nonprofit and higher education organizations focusing on communication and digital marketing, and most recently in search engine optimization in the mission-driven sector. Jessica holds a master's degree in communication from Virginia Tech. In her free time, you can find her reading, building furniture, and hanging out with her cats, Benny and Olive.